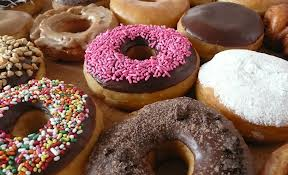 One of my happiest childhood memories started out poorly. I was 6 years old on Saturday morning. My two siblings and I were already squabbling. After several minutes of screaming (and crabby parents) my mom made a dramatic announcement:
"Y'all listen up. We are all going to start our day over. Everyone go back to bed and stay there. In a few minutes I will let you know when it's time to get up."
Our arguments gave way to giggles as we climbed back beneath the sheets, curious at this unexpected turn of events. Sure enough, after a little while she called down the hall "Time to get up! breakfast!" We jumped out of bed, and bounded into the kitchen to discover my dad had snuck out and gotten donuts — a rare treat in our house back then.
It turned out to be a great day.
Many years later I still remember the rush of excitement, the dramatic shift of mood that morning — the power of choosing to starting over.
The power of starting over—a picture of God's grace.
Every day God invites us to a "do-over," to get our day going with the joy of a fresh start. He doesn't want us to rehash old problems and issues. He wants us to let them go, just as He has let them go for us.
We never have to be stuck in our old habits of condemnation, defeat, worry, addiction, unforgiveness, perfectionism, or people-pleasing. God does not want us to be. That is why He came: to set us free.
I have to admit, it is hard for me, a recovering perfectionist, to push the RESET button of God's grace every day. I want to get it right. Do it myself. Without Him. I have to remind myself that "getting it right" can only happen WITH Him — if I get it right in His timing, His power, with His presence. Receiving His grace, starting fresh, requires that I acknowledge to myself and to God that I need Him. Every day. Throughout the day.
God's Grace is the RESET button that releases us from condemnation and frees us to truly live in joy.
As this new year begins, resolve to push the RESET button early and often.
Therefore there is now no condemnation for those who are in Christ Jesus. For the law of the Spirit of life in Christ Jesus has set you free from the law of sin and of death. Romans 8:1-2 NASB
This is the day that the lord has made. Let us rejoice and be glad in it. Psalm 118:34 ESV
"Do not call to mind the former things, Or ponder things of the past.
"Behold, I will do something new, Now it will spring forth; Will you not be aware of it?
I will even make a roadway in the wilderness, Rivers in the desert. Isaiah 43:18-20 NASB
We would love to hear from you:
• Do you have a "do-over" story?
• What helps you remember to push the reset button?
Share your ideas/pictures/stories!
o email
o facebook
o twitter
o pinterest