Perfectionists are  a restless lot. As a perfectionist-in-recovery, I am no expert on patience.  Impatience?   Now that is something I know well.
Much of my life I have lived in the world of impatience.  I am impatient for a project to be done, for people to hurry up and catch up, for the house to be perfect, my kids to be perfect, my husband to be perfect., and– most of all– for ME to be perfect.
Every perfectionist is really hard on themselves, and I am no exception.  I try-I really do-to correct all my imperfections, to achieve the elusive status of "perfect," for once in my life.  (I wonder what that might feel like?)  Occasionally I get close, and have the momentary sense of satisfaction before the all-too-familiar restlessness returns.
I am learning that perfection is such a hopeless goal, and it is so unnecessary:.  The truth is, I am already perfect.  God through Christ has made me that way.  My  job is to claim perfection for myself, not to create "perfection" in myself.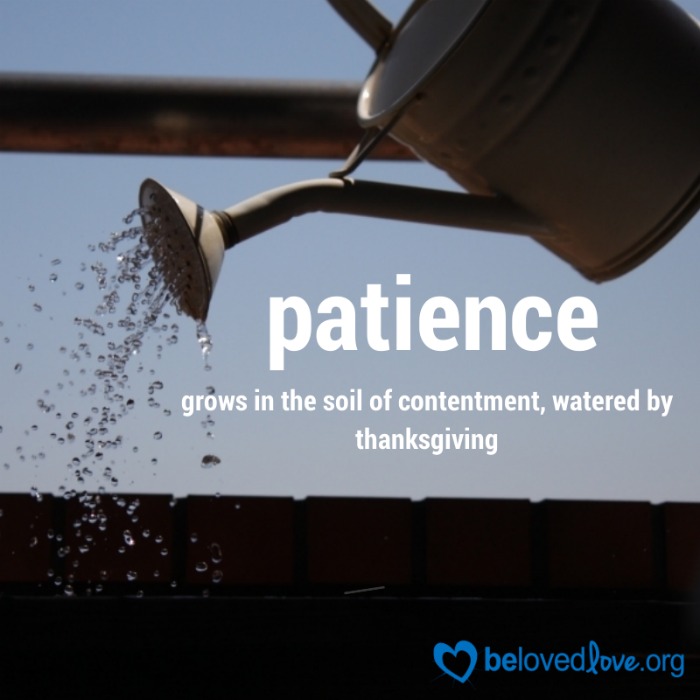 Patience takes root when I quit focusing on self-improvement.  In fact, it really flourishes when I quit focusing on myself altogether, and
I give thanks for God – His character, wisdom, kindness, honesty, integrity, and
I give thanks to God, for His enormous love for me and every other person on the planet.
Patience thrives when I am thankful to God for His infinite patience with me, and for teaching me – slowly and surely – to be patient with myself.
Patience grows in the soil of contentment, watered by thanksgiving.  And as I turn my face toward the warmth  of God's Love, that patience blossoms with Joy.