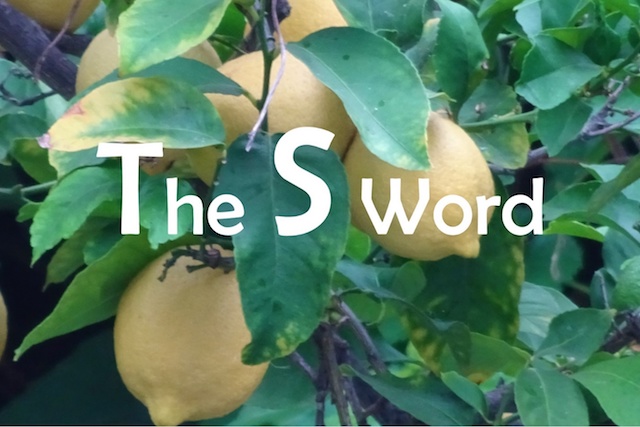 by Lydia Floren
One of our favorite family phrases comes from the movie Aladdin.  The little parrot, Iago, gets all upset and starts venting to his boss, the evil Jafar.  Jafar's response is simply this: "Paaaaatience, Iago. Paaaatience."
What gets us so riled up, that we lose our patience with ourselves or others? For me, it is the S word.  No, not the four-letter S word….the six-letter one:  "should."  When "should" creeps into my thoughts and makes its way into my conversations, patience goes out the window. Joy is replaced by restless discontent.  I start focusing on what is wrong instead of what is right.
"They should be doing this. I should be doing that."
"They should fill all of these potholes."  "I should get more respect." "The computer system should always work perfectly." "I should be able to manage my time better, or be a better person."
Should is a toxic word. It poisons our peace and eats away at our patience. Shoulds stress us out and put stress on those around us.
Cure for the S word
The cool thing is, there is a cure for the S word–the "should" infection. It's the T word: thanksgiving. The practice of giving thanks in all things stamps the shoulds right out of our life. Gratitude banishes discontent, restores our joy, and replenishes our patience.
"Thank you Father, that we have paved streets, and that these potholes will eventually be filled."  "Thank you that You respect and value me, and are teaching me to respect and value myself." "Thank you that the computer system works 99% of the time, and there is a great team of people working on keeping it that way."
It doesn't come easy.
Replacing the "S" word with the "T" word takes some practice. It doesn't come easy.  In fact it can feel quite awkward and contrived, especially at first.  But, it is incredibly powerful at restoring our perspective and our joy.
"Thank You that every single one of us is imperfect and in process, and You love us right where we are." "Thank You that we are each fearfully and wonderfully made." "Thank You that I don't need to do anything to earn your love, and there is nothing I can do that will change it." "Thank you that You are always present and at work, and working things to good."
"Thank you that there is always, always, always something to be thankful for."
When we cultivate a grateful heart we quit "shoulding" all over ourselves and those around us. Our words and actions are motivated by love instead of driven by discontent.
How has the "S" word invaded your life?  What happens when you replace it with the "T" word?