The Moment Called Today, by Lydia Floren
The last time (OK, the only time) Andrew and I went to Hawaii, we went to a medical conference on the island of Maui, a land of extreme contrasts.  Mountain and sea, lava and jungle, sunshine and rain. Maui is a unique place.
One morning we were drinking coffee at the meeting place, and chatting with some friends. They told us about a great snorkeling spot on the north shore that they'd heard about. It was little hard to get to, but supposedly worth the trouble. So we decided to play hooky for the rest of the day.  We went home, gathered some stuff.  They gave us the directions, and we would meet up at the water.  After a short drive in our rented convertible  Andrew and I parked, gathered our things, and then set out to hike the rest of the way in.
An unusual path
Our path took us through a forest of bamboo. The dense foliage seemed to close in and shut us off from the rest of the world.  Surrounded by these towering stalks, we had no view of our destination, and the trail was so curvy that at times that we couldn't see but a few feet in front of us.  And even though the surf crashed nearby, all we could hear was the breeze swishing through leaves.  For a half hour or so we enjoyed a hushed stroll through these shadowy walls of cane, and then emerged to a breathtaking landscape of soaring cliffs and crashing sea.  One minute we could see for 5 feet, yet the next we were gazing for 50 miles.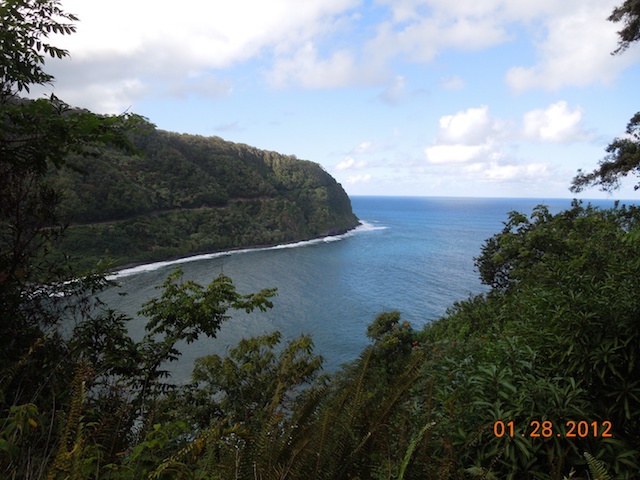 Uncertainty
In this life, there is a lot of not seeing.  We often don't know where our journey will take us, and what we will encounter along the way. We can either chafe against this not-knowing, or focus on the beauty before us, right now, as we travel along.
Peace
When I choose to fret or worry about what is (or isn't) coming next, I miss the moment called Today.  I forget that, whether I see clearly or not, I am still safe. Still loved.  God is still guiding. When I do remember these things, I can be at peace in the middle of uncertainty, resting in God's arms, trusting His wisdom and leading. I am able to enjoy the moment called Today.
Joy
Choose to live in the moment called Today. Choose to be content in your circumstances. When your view is not clear, and even when it is, savor the beauty of life you have been given today.
No need to fret.  Eventually you will reach a place you can see for miles, a place that will truly take your breath away.
"I will lead the blind by a way they do not know, In paths they do not know I will guide them. I will make darkness into light before them and rugged places into plains…"  Isaiah 42:6
"Rejoice in the Lord always. I will say it again: Rejoice!" Phil 4:4