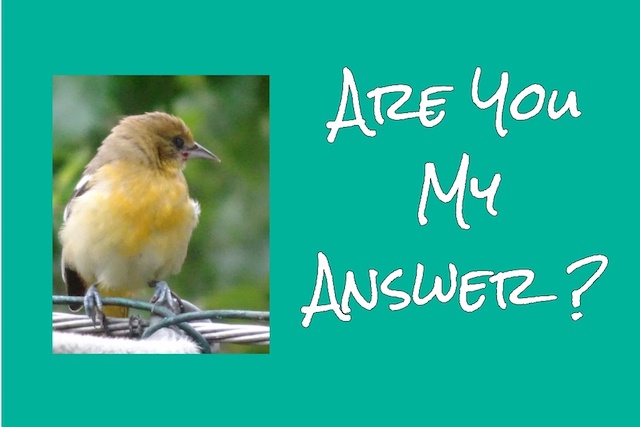 by Lydia Floren
Are You My Mother? is a classic children's story about a little bird who broke out of his shell and found himself alone in his nest. Somehow, he knew he had a mother and that he needed her, even though she wasn't there. So, he hopped down from his perch and started looking for her. Each time he spied a potential candidate (animal or object), he would ask, "Are you my mother?"   And each time, he got the same response, "No, I am not your mother."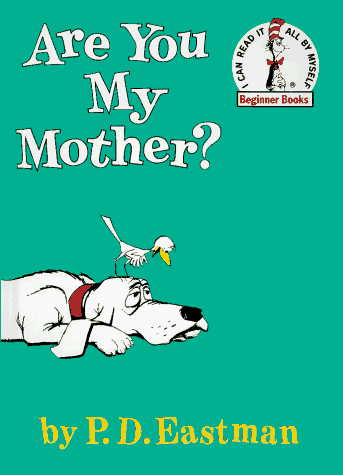 The baby bird continued searching until he finally encountered his mom.  Curiously, he didn't ask her, "Are you my mother?",  because when he saw her, he immediately recognized her.
"I know who you are," said the baby bird. 
"You are not a kitten or a hen or a dog. You are not a cow or a Snort"
"You are a bird, and you are my mother!"
We can often wander around in our lives in search of someone or something, to take care of our deepest needs.
We don't use words, but like that little bird, we do ask the same question over and over again, "Are you my answer?",  or in other words, "Will you be the person or thing that will fill that big hole in my heart?"
For example, we can do this when we rely on attention or accomplishments to bolster our self-esteem. Or when we focus more on what we can get out of a relationship than what we can give.  "Are you my answer?", we query. "Will you give me the sense of significance, the feeling of belonging I so crave?"
But no person, or thing, is able to satisfy our deep hunger for unconditional love. Only God-Who-Is-Love can do this.
"Are you my answer?"
When we ask God, His response is always the same:
"Yes, dear Child, I am your answer.  Come. Lay down your burden of shame and self-contempt. Stop trying to fix yourself.  Rest in this truth: you are completely known and fully loved by Me. God. You are so precious to me that I chose to die for you. Nothing you do – past present or future – will ever change my love for you."
When we truly encounter God's love, when we allow it to seep into the core of our being, we don't need to ask. We know. He, the God-Who-Is-Love, is our answer – is The Answer – to our deepest need.
And I pray that you, being rooted and established in love, may have power, together with all the Lord's people, to grasp how wide and long and high and deep is the love of Christ, and to know this love that surpasses knowledge – that you may be filled to the measure of all the fullness of God.   Ephesians 3:17-19