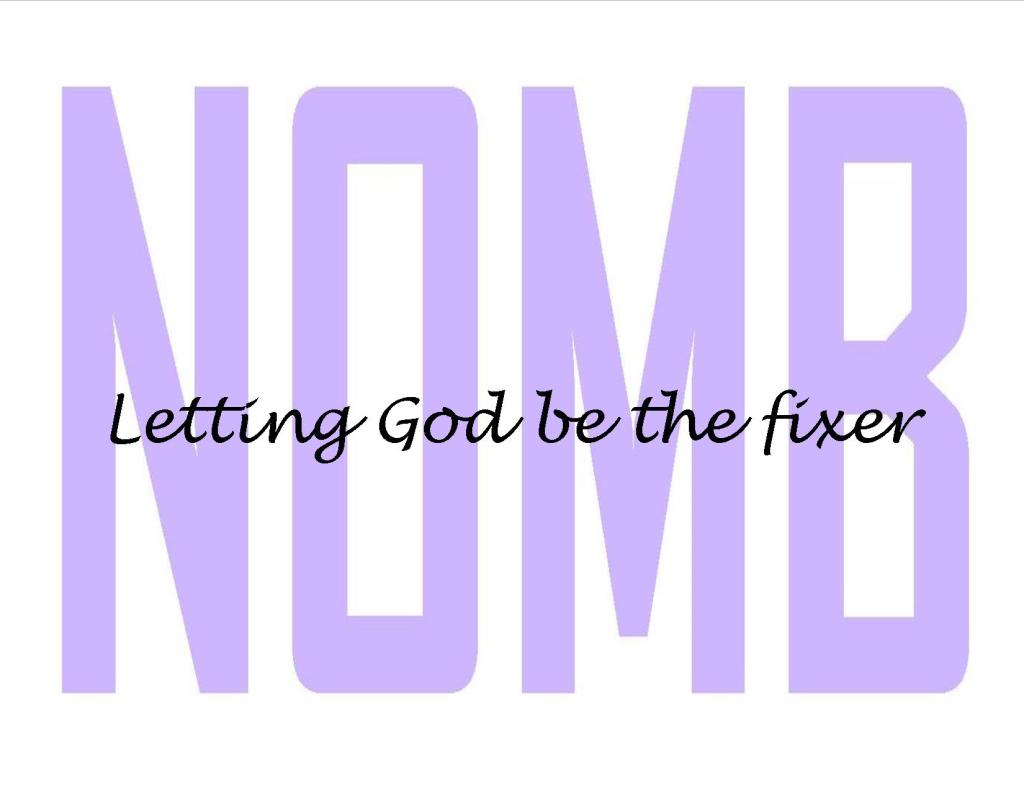 NOMB (None Of My Business) Part I: Letting God Be The Fixer
Fixing Things
I am a fixer by nature and nurture. By nature, according to the Myers-Briggs personality test I am an Extroverted-Intuiter-Feeler-Perceiver, and ENFP's like me enjoy solving problems. You could say that my tendency to want to fix things is hardwired in my DNA. By nurture, I grew up the middle child. As such, I was the de facto ambassador in parental negotiations and the swing vote in sibling disputes. My fix-it-ness was reinforced in medical school, where I learned to analyze and diagnose and advise and treat all sorts of ailments. You could say I had a "license to fix."
But nothing has fine-tuned my fixing skills more than motherhood. As every parent knows, moms are required to fix all kinds of stuff like scrapes, scuffles, bad manners, and hurt feelings. Oh yeah, and spilled milk, throw-up, and crises in the carpool. And—lest we forget–moms are more often than not responsible for fixing dinner.
No wonder it is hard for me to turn off that fixing nature. (And why would I want to? I'm so good at it! But I must—MUST– resist the urge. Fixing other people's lives is waaaaay out of my job description. It is one thing to help someone solve a problem when asked (such as in my role as physician), or when someone depends on you (as in mothering a small child). But most of the time people don't need—or want–me to diagnose what is wrong with them and try to correct it. That is almost always the worst thing a person can do. Ask any teenager.
Folks, including teenagers, just want to be loved and accepted. They want to be enjoyed for who they are. They want someone to believe in them and pray for them. People want someone to listen while they talk out their dilemmas so they can come up with their own solutions.
SIGH.
OK, so how does one curb this fixing habit? Here's a great start: Remind yourself every day that YOU ARE NOT GOD.
Note to self: I am not God.
I am not God. I know this shocks those of you who know me, but I just wanted to get it out there so you could get used to the idea.
Here are a few additional reminders that are helping me curb my fixing habit:
I don't know the big picture. I do not have enough information to even judge what another person's problems are, much less to solve them. I might see glimpses, but they are just that—flashes of insight. It takes much more information than this to make an accurate diagnosis and recommend a remedy. As we in medicine like to say, "A little bit of knowledge is a dangerous thing."
I don't have the skills. Another axiom in the practice of medicine is, "Know your limits." Not only do I lack adequate information, I also lack the ability to "fix" someone else.
It is not my job. As much as I might act like it sometimes, God has not asked me to fix anyone. I don't think He ever would, and it would be beyond me if He did.
My "fixing" might hurt more than it helps.
What about you? Do you ever have the inclination to try to FIX THINGS?                                            If so, then repeat after me:
"I am not God. I am not God. I am not God."
Oh, gracious! There I go again. Now I'm trying to fix YOU! Ugh!
Recent Series: Learning to Fish, Our Problems Are Not The Problem, Four Practical Steps