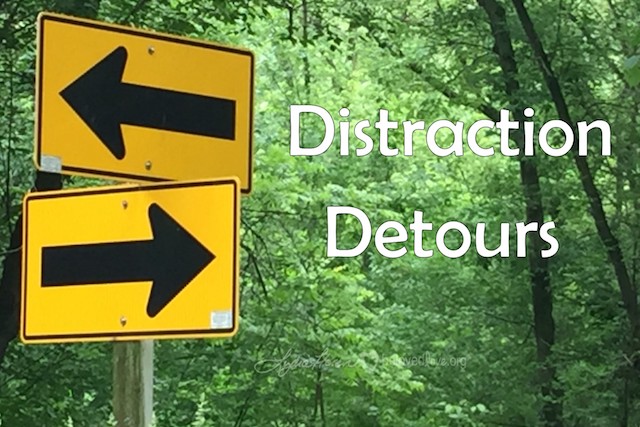 by Lydia Floren
We all get distracted from time to time, especially those of us with ADD. Here is an example of what I call a "distraction detour" from my life recently:
I am finishing a task in the kitchen before I head out to run errands, and realize I need something from upstairs, so I run up to get it.  I walk into the spare bedroom, and immediately notice that it is a mess. I pick up a book and put it on its shelf. And then I rearrange the shelf a little. And before I know it I have completely organized the room.
And then I look at the clock.
 Two hours. I've been up here two hours. How in the world did I get started on this?  Oh yeah, I came up here looking for something…what exactly was I looking for?
I shrug my shoulders, and hurry back down to the kitchen.  As I enter, my eyes fall on a T.J. Max bag sitting on the counter. Oh yeah, the baby shower gift. That's why I went upstairs: I needed a gift bag.   I turn around and climb back up the stairs muttering "gift bag, gift bag, gift bag" with every step, so I won't forget why I came upstairs this time, and end up getting side-tracked all over again.
Sigh. Distractions happen. And occasionally–more for some of us than others– they sidetrack us. An unplanned two hour detour in a busy day, shoots a hole in our careful plans, and keeps us from accomplishing as much as we had hoped.  But we don't have to let these DD's ruin our day.   When my day is disrupted by a Distraction Detour, I get frustrated with myself for letting it happen. All too often, I will continue ranting at myself for the rest of the day every time I think about it.
What is wrong with you? Can't you even go upstairs and find a stupid gift bag in under two hours?  Look at the time! Even if I hurry the rest of the day, I'll never get everything done now!
Distraction detours impact our plans, but they don't have to steal our joy.
So what's a person to do when you recognize you have a DD?  And how do you keep a Detour from turning into a Disaster? Here's a few things I have learned in my long experience with DD's:
As soon as you realize what is happening, stop.  Take a deep breath. Give thanks. As my friend Denise often reminds me, "There is always always always something to be thankful for."  Next, walk through the rest of the GRACE pneumonic we've talked about before (see Living GRACE)—Give thanks, Release, Accept, Continue, Enjoy.
Give thanks. Thank You, God, for my mind, no matter how scattered it gets. For Your love and patience, for the way You made me. Thank You that You multiply my time, and will help me to do what is most important without worrying. And thank you for what I got done these last 2 hours, even if it wasn't on today's to do list.
Release. I give all my time to you, and all my plans. I release myself from the expectation of perfection.   Please show me how to give myself grace, and lighten up a little (or a lot). And help me to quit "shoulding" on myself.
Accept. Here's where I am now, Father. It's __o'clock. I have ___ hrs left in the day.  As I regroup, show me what is most important. Help me to eliminate and concentrate.  
[You might make a short to-do list, 3-5 things, depending on how much time is left.]
Continue.  Start out fresh, right where you are, as if it was the beginning of the day,
Enjoy  the rest of the day, free of worry and minus the self-guilt trip. God understands, and he loves us just like we are. So lighten up.  Laugh a little, and then a lot.
Distraction detours happen to all of us. Don't let them highjack your joy. Be kind to yourself. Step back, regroup, handle them with GRACE.  Laugh a little (and then a lot) and move on!
Don't remember the former things; don't dwell on things past. Isaiah 43:18
Rejoice in the Lord always. Phil 4:4