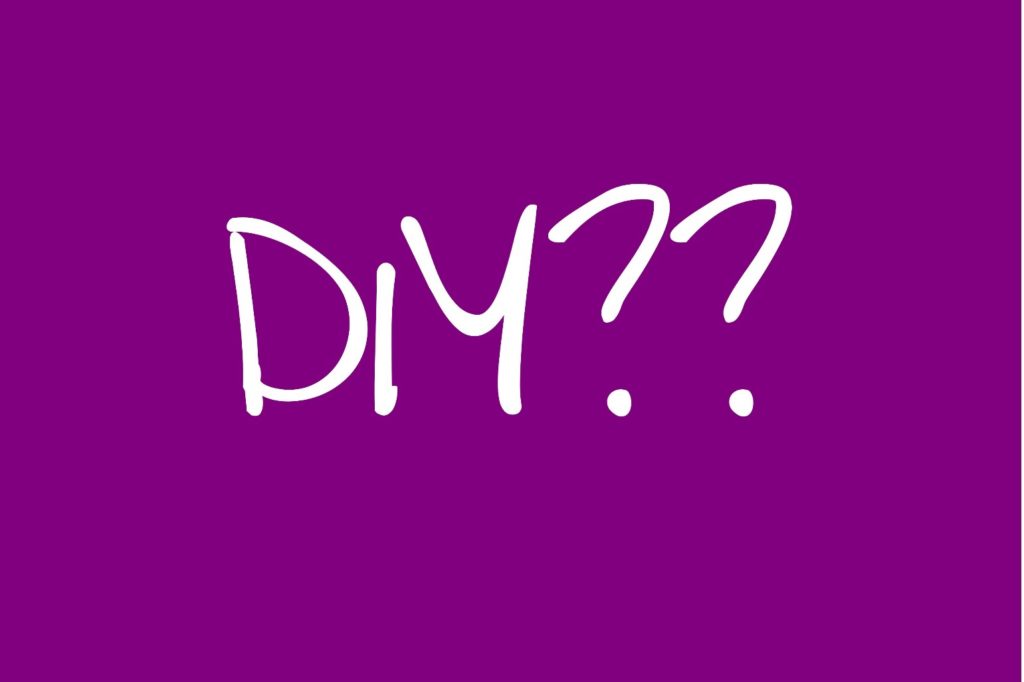 So, What's a Person To Do? [DIY?? Series, Part 2]
by Lydia Floren
If you are like me, most of your life you have heard some version of this saying:
But, guess what?  Those words, and that concept, are not in the Bible, anywhere.  In fact, when we act independently in our lives – apart from God – we are doing the opposite of what the Bible teaches.
But, when things get tough, it is easy, isn't it, to ditch our faith and take matters into our own hands? Especially, when our difficulties seem to go on and on, without our being able to see any hope or resolution.  When we quit waiting for God and choose self-reliance, our actions can take many forms, including avoiding, complaining, controlling, or self-indulgence. And, invariably, our way of doing things doesn't make things better. Quite the opposite: it usually makes them much worse.
So, what's a person to do when things go wrong, and continue to go wrong?
Wait. Patiently wait. Trust the God-Who-Loves-You.  And then, keep on trusting Him.
The Old Testament Israelites whined a lot. Isaiah 40 is a reality check for one of their gripe sessions. In the first part of the chapter, Isaiah answers their complaining by first reminding them of who God is. For example, in verses 12 and 13 he says,
"Who else has held the oceans in his hand? Who has measured off the heavens with his fingers?
Who else knows the weight of the earth or has weighed the mountains and hills on a scale?
Who is able to advise the Spirit of the LORD? Who knows enough to give him advice or teach him?"
"Really? Are you serious?", Isaiah seems to be saying, "Don't you realize who you are talking to?  Listen while I refresh your memory."
The last part, Isaiah 40:27-31, is one of my all time favorites. I first encountered these verses when I was a first year medical student. I was feeling overwhelmed and very sorry for myself. Isaiah's words put things back in perspective.
O Jacob, how can you say the LORD does not see your troubles?
O Israel, how can you say God ignores your rights?
Have you never heard? Have you never understood?
The LORD is the everlasting God, the Creator of all the earth.
He never grows weak or weary. No one can measure the depths of his understanding.
He gives power to the weak and strength to the powerless.
Even youths will become weak and tired, and young men will fall in exhaustion. 
But those who trust in the LORD will find new strength.
They will soar high on wings like eagles. 
They will run and not grow weary.
They will walk and not faint.  Isaiah 40:27-31  
My translation  
This is how I hear God speaking to me through these words:
"Really, Lydia? Really?? You think I don't know what is going on here?  Newsflash:  I am the God of the universe. Of course I see what is happening. I GET IT.  So keep trusting Me. I will give you the power to move through your painful circumstances, and to rise above them."
Southern Redneck Translation (SRT)
Or in southern redneck terms Isaiah is saying here:
"Quit yer bellyachin'. God's got yer back. Hold yer hosses, and hang on to yer britches. Watch and learn, Son. Watch and learn."  Isaiah 40:27-31 SRT 
So what's a person to do?
Do you really want things done right?  Really? Then for heaven's sake, don't take matters into your own hands.  You have no idea what is really going on, or how to fix things properly. Believe me, you are liable to make matters worse instead of better.   If you really want things done right, trust God, and keep on trusting him. He will give you the strength to walk through your difficulties, and to learn to rise above them.