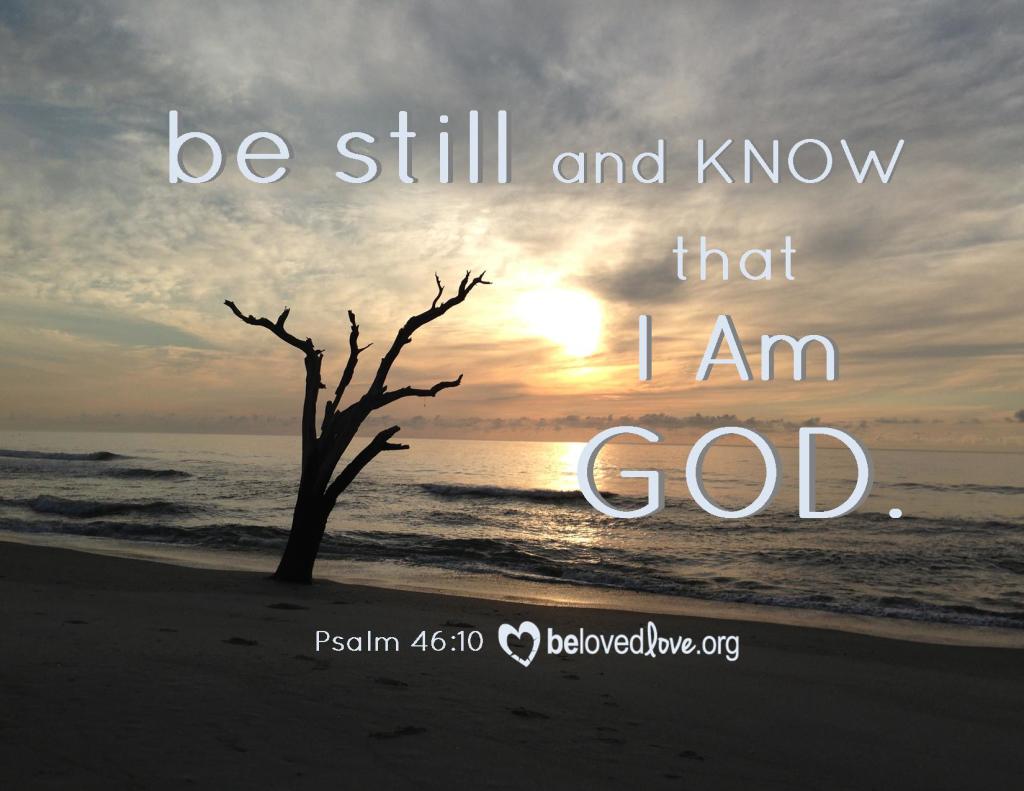 Be still and know that I am God.  Psalm 46:10
In the swirl and stress of the holidays, or just daily living, God often uses these 8 words to restore my soul.
"Be still and know that I am God."
The simple acts of being and knowing, free us from the Twilight Zone of Anxiety, the Abyss of Never Enough.
"Be still and know that I am God."
Be.
Just be.
Be aware of being alive. Appreciate that you have a beating heart, and air to breathe.
Settle into the truth that

You are fearfully and wonderfully made.
You are wanted. Treasured. Valued. Loved.
You are known and you are loved.
Be still.
Just stop. Rest. Take a breath. Or two. Be still.
Be still on the inside, as well as the outside.
Release all those thoughts swirling around in your head.
Take your mind off your responsibilities, your concerns, those things in your head that are nagging you.
Let go right now, and just be still.
 And know.
Let truth sink in.
Be aware of what is real, and what is not.
What is beyond seeing and understanding—and is in the realm of just knowing.
Know that I
Know the Person who made you,
Who knows you better than you know yourself.
Who loves you with an everlasting love, which is in no way dependent on what you do or don't do.
Who lives within you.
Who has your back.
Who has shown, and will show you how to live.
Who will never steer you wrong.
Who goes after you when you stray—deliberately or unintentionally–and brings you back to the path of life and joy.
Who restores your soul, leads you into the light and away from the darkness.
Who will never leave you or reject you.
Who keeps you safe—protects your identity, value, belonging and calling—for all eternity.
 Know that I am God.
Know that this person–your heavenly father, your friend, your one and only guide in life, your creator—is God.
He is God.
He is
100% good.
The most powerful being in the universe.
Wise
Trustworthy
Present
Compassionate
Understanding
Forgiving
Non condemning
Full of life and joy
Available
Ready to show you a better way to live
Committed to walking with you on that way.
"Be Still and Know that I AM GOD."  Psalm 46:10
How has this truth changed your life?  Please share with us!
"Come to me, all you who are weary and burdened, and I will give you rest. Take my yoke upon you and learn from me, for I am gentle and humble in heart, and you will find rest for your souls. For my yoke is easy and my burden is light."  Matthew 11:28-30