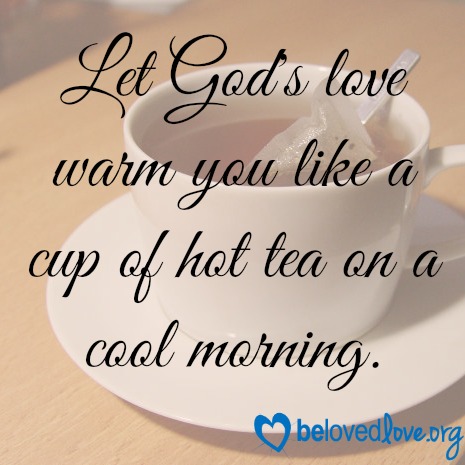 It's hard to see my own shortcomings.  I don't want to look at my ugly wounds.  But, if I desire to heal – to be restored – I must first face these flaws.  Then, I must be still and allow the Great Physician to free me from the habits-rooted-in-lies that keep me doing the same destructive things over and over.  Sometimes God's knife must go deep – it can't be helped – to get to the root of the lie.  The results are definitely worth it:  true healing, and with it, profound joy.
Father, forgive me for my haughtiness, my rudeness, my feeling of superiority, of trying to jockey for position, or importance.  Help me to be an instrument of your peace, not of my own pride. Thank you for restoring my soul.
The deeper my soul reaches toward Truth, the more deeply God's love reaches into me, warming me, like a cup of hot tea on a cool morning.  In the safety of His embrace, I can celebrate my God-given identity, value, belonging and calling independent of others' fluctuating opinions, or influence.
Each time I manage to turn around and face my failures, the brilliance of God's grace takes me by surprise
Why do I forget this?   How can I learn to remember?


Do you ever find yourself running from yourself?    What prompts you to remember the brilliance of God's grace?
We would love to hear from you!