My peace I give to you…
The peace of God is unlike any other that we see on earth.  It is not an uneasy truce, or an acquiescence to domination.  It is the abiding understanding that our identity, our value, our belonging, and our calling are safe.  No person or spiritual force can change this in any way.  We can come to God in tears, feeling worthless, or abandoned, or like failures.  He reminds us that we are precious. We are His, and we are one of His chosen vehicles for loving the world.  We can go into our days with confidence and light hearts. And, we are safe.  We are not alone.  The God of Peace is with us, within us, and He loves us.
True peace is the absence of fear, and the Presence of God.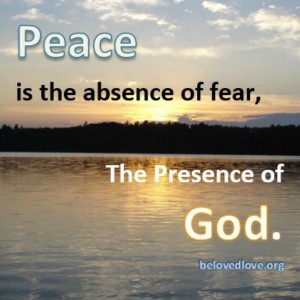 He restores my soul.  Psalm 23:3
Those who go out weeping, carrying seed to sow, will return with songs of joy, carrying sheaves with them.  Psalm 126:6
Perfect love casts out fear. 1 John 4:18
Satisfy us in the morning with Your unfailing love, that we may sing for joy and be glad all our days.  Psalm 90:14